Recognition and Thank You
This year Literacy Volunteers celebrates 35 years of success. We thank you! Because of your amazing work and generosity, LVSF served over 400 students this past year. And what a year this has been! Despite the ongoing health pandemic, social distancing and the transition to virtual tutoring; LVSF Basic Literacy, ESL and Citizenship tutors have stepped up and continued to engage and support our students in achieving their goals.
We want to express our sincerest appreciation to our volunteer tutors and community of supporters. Your work and generosity changes lives and brings our community closer together. Volunteers like you bring the change our world needs right now.
MEET LVSF STAFF & BOARD
As a recurring item, we will present brief profiles of LVSF Staff andor Board Members, so that you can get to know us a little better. If you're interested in becoming a tutor, please check out our website for more information; if becoming an LVSF Board Member interests you, please contact Maria Padilla.
Kimberly Wiley, Board President
Kimberly (Kim) Wiley, outgoing President of the LVSF Board of Directors, joined LVSF as a tutor in 2012. Initially, she was an ESL tutor, but later that year completed dual training, so that she could also be a Basic Literacy (BL) tutor. The Monday after completing her ESL training, Kim started tutoring an Intermediate ESL group at Hopewell Community Center, and was so fortunate to be mentored by Isa Spoonheim, a master teacher. Kim joined the LVSF Board in 2014.
Throughout the years, Kim has greatly enjoyed the variety of students and settings in which she has tutored: from group classes to 1:1 tutoring, and from helping her student achieve very defined goals, for example to pass the U.S. Citizenship test, to working with them through evolving goals that expanded throughout the years of working together.
Kim believes that she has gotten much more out of her interactions with students than they have received from her. It is a gift and a blessing to coach, mentor, and witness one's students achieve an important life goal: buying a house, becoming a citizen, or getting a job or promotion.
Prior to retirement, Kim was a strategic planner, director, and management consultant for higher educational and research institutions, as well as Fortune 100 companies. And while she greatly enjoyed her work, she was frequently envious of her husband's experiences as a college professor, when student from many years past would come by his office and let him know what a difference taking a course with him had made in their lives. She thought, "Hmmmmm, no one is ever going to come up to me and say, 'Do you remember that report you wrote 25 years ago? It changed my life!'"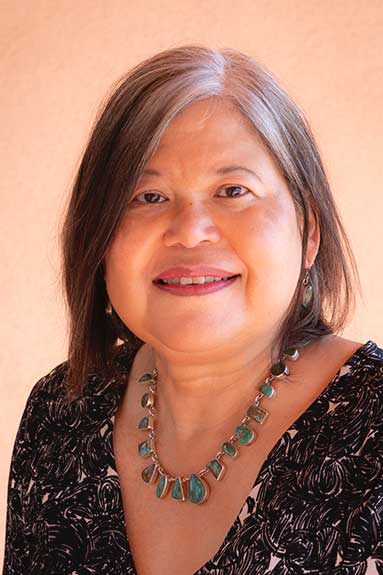 So, she is happy to report she has had the honor of witnessing and experiencing the impact that LVSF tutors can have on their students' lives. And while she will miss the work she has done with her Board colleagues, she is very much looking forward to returning to tutoring.
Art & Mindfulness for Challenging Times Virtual Workshop
Thank you to Santa Fe Artist Michele Relkin and our LVSF board member and mindfulness teacher, Arthur (Art) Panaro, for presenting two intriguing virtual workshops on the benefits of mindfulness and journaling as a way to cope during this time. Michele and Art presented techniques and strategies to be implemented by tutors in engaging their students in mindfulness and journaling while also practicing language skills.
Art and Michele presented a range of tools to be used in tutoring sessions. Art shared basic mindfulness practices that can be used to bring students to focused and calm awareness of the tutoring session. With glue, scissors, craft paper, and magazines at hand, Michele demonstrated various art projects for crafting a visual journal with words, drawings, and collage. In the second workshop, Michele guided participants in creating self-portraits with the "face formula".
Participants also practiced journaling through illustrating their daily experiences in a series of blank boxes. Michele also shared other ideas for creative journaling such as decorating or painting a small box to contain writings or objects that students may find meaningful.
Many thanks to Art and Michele for sharing their creative and meaningful practices to bring us all to a place of calm while also chronicling our feelings and experiences through this challenging and historical time.